Sydney gains solar-powered EV charging station
---
In what it describes as an Australian first, The Motor Traders' Association of New South Wales (MTA NSW) has opened up a new state-of-the-art, solar-powered electric vehicle (EV) charging station for public use on one of Sydney's major thoroughfares.
The initiative is the result of a collaboration between MTA NSW, the National Renewable Network (NRN) and global clean energy infrastructure company Wallbox.
Located at MTA NSW's headquarters at 214 Parramatta Road, Burwood, the charging station marks the latest in a series of steps taken by the organisation to help increase EV adoption.
"We are thrilled to unveil this next generation of electric vehicle chargers which will be powered by solar energy and provide the public with a high-quality, cutting-edge charging solution," said Stavros Yallouridis, CEO of MTA NSW.
"Increasing the accessibility of charging stations and improving EV infrastructure is crucial in promoting the uptake of EVs and fuel-efficient vehicles in Australia."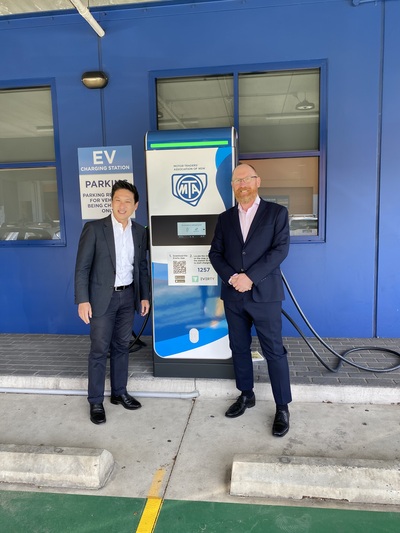 Jason Li MP, Member for Strathfield, with Collin Jennings, Head of Government Relations, MTA NSW, and the new EV charger.
The Wallbox-designed charging station consists of a 'Supernova' 60 kW charger with split charge, allowing two vehicles to be charged at the same time. This device is composed of six 10 kW modules that work together to provide maximum power while maintaining their operational independence. The charger is capable of adding up to 100 km of range to a battery in under 15 minutes.
The Supernova is among Wallbox's most successful products, with over 1000 units being sold in 32 countries since launching in 2022. It has won multiple awards, including the prestigious iF Product Design Award.
With the assistance of the National Renewable Network, MTA NSW has installed rooftop solar panels designed to offset the energy output of the chargers.
"The NRN is excited to be working with the MTA to support their drive towards supporting and expanding the use of EVs in Australia," said Alan Hunter, CEO of the National Renewable Network.
"This is consistent with NRN's own mission to democratise access to renewable energy, including for small to medium businesses throughout Australia. The MTA NSW charging station is powered by solar energy, making it a truly next-generation, energy-efficient solution.
"This also serves as a proof point for future EV charging infrastructure, and we hope to see similar models being rolled out more broadly across the state," Hunter added.
Top image caption: Promotional picture of the Wallbox Supernova charger. Image courtesy of Wallbox.